Advert ID 45442 Posted 22/01/13 Views 1123
Hamilton jet units(hj274)
This advert has expired and will no longer appear on FAFB. If you are the advertiser you can
renew
it.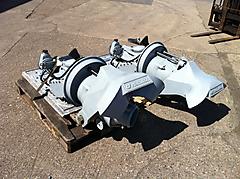 - Click photo to enlarge -
Description
Hamilton Jets (HJ 274)
Matched pair of Hamilton Jet Units
Unused from cancelled project.
These units are in new condition and are complete with
Aluminium intake blocks.

Contact advertiser
The contact details for this advertiser are unavailable.
DO NOT SEND MONEY TO SELLERS YOU CANNOT VERIFY AS GENUINE. If possible, travel to view the goods yourself and only buy once you are happy with the ietm(s). Also, consider using a safe payment system such as an escrow service (type escrow into Google, or try the link below).
More from engines and gearboxes for sale category
View engines and gearboxes for sale category
Articles and Guides
18 May 2013
Buying a boat

10 May 2013
How to sell your boat!

Latest boats for sale